Principal Meryn Jones & daughter Pearl Pisk
Principal Meryn Jones
Preschoolers- Ballet- Jazz- JFH -Performance teams
The dream all started back when Meryn was four years old, in the Bowra St. Studio with Antonia Erskine. The former Principal who influenced, guided and nurtured Meryn & gave her the confidence and knowledge to uphold the Rivers legacy. Meryn knew she would one day own her own studio and this became evident when she started assisting classes at the age of 15 years, to further her capacity of one day owning and operating her own dance studio!
Meryn studied the Cecchetti Ballet method completing the Advanced 1 A syllabus & completing the HSC 2 year Dance syllabus majoring in Performance. In 2005 she decided to venture out from her roots of Bellingen & travel to the USA taking classes in Jazz, Funk & Hiphop in Florida.
Meryn was offered a teacher's position when she returned from the USA in 2005 at Rivers in the styles of Jazz, HipHop , Ballet , Contemporary & boys classes. In 2010, she was accepted into Urban Dance Centre Sydney for a full-time position. Weeks later, Meryn was offered a business partnership at the Rivers Studio & felt that Bellingen was indeed where her heart was and so she relocated back home!
In 2012, she became co-principal with Antonia Erskine, and 3 years later became full Principal/ owner of the entire school. She focused on bringing a modern & energetic style to the studio incorporating many new elements including creative performances and showcases, eisteddfod troupes & modern facilities. She contributes to the community by offering fundraising showcases for events & offering youth scholarships for future dance opportunities.
Over the past 3 years Rivers has grown to acquire over 150 students, girls, boys & adults taking classes across all genres.
Meryn's says that her love for Dance & the creative arts industry along with her passion to teach children to be strong & confident , to wear their heart on their sleeve & put their best foot forward , is what makes her job a dream.
We are proud to put forth a group of tutors who are extremely passionate about what they do. Our fully experienced and trained tutors provide students with exciting & rewarding classes by nurturing individual abilities & helping students to become the very best version of themselves inside & outside of the studio.
Cecchetti Ballet associate -
Cecchetti Ballet pre-primary to grade 5
Tiny tots/ preschoolers/ Jazz
Janna is an teacher associate of the cecchetti ballet & has been dancing and performing in musicals since she was 5, finding a huge passion when she was 11 to try Contemporary, Jazz and Hip-Hop classes & This lead to being a part of a small Calypso group, learning Spanish and Russian Character dance styles. Janna began assistant teaching with junior classes in 2012 and have since participated in many dance workshops, choreographed for groups at the local High School and just recently performed a cameo role in the Melbourne Ballet's 'Arche'. Janna has also studied Dance Appreciation and safe dance with Wendy Morrison during her HSC, and chose to explore composition as part of her Aboriginal Studies Major Work. She now focus's on her teaching role at Rivers Dance Centre, where she has been teaching for the past three years conducting both Ballet and Jazz classes, troupe performance teams & choreographing end of year performances. janna says she has grown to love the role of instructing dance to younger enthausiasts - a truly rewarding and fulfilling opportunity. she says The most inspiring part of being a mentor is seeing a student's progress over time, and the passion they hold for achieving their personal goals, however great or small.
student from the queensland ballet school
Junior Classical ballet /Contemporary /Modern
Monika began her training with Antonia at the age of four in the Bowra Studio and has completed her Advanced 1 Cecchetti Ballet Syllabus with astonishing results. She has also taken many years of training in Jazz, Contemporary and Modern. Monika has been performing locally in Performance troupes & as a soloist at Public shows. She has recently returned from completing two years full -time training at the Queensland Ballet School where she undertook extensive classical Ballet training. Her experiences have enabled her to grow & develop as a dancer and achieve what only some would dream of achieving! Now back in Bellingen, Monika is wishing to teach dance students and fullfill another chapter of her life. We welcome Monika to our faculty for 2018 as we believe she is truly inspirational and dedicated in providing and nurturing our junior ballet students for 2018.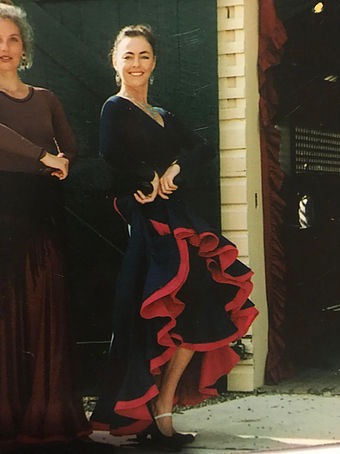 Founder of the original Rivers Ballet Studio
cecchetti Ballet Syllabus
POINTE/Spanish/Character
Antonia trained In classical Ballet, contemporary and jazz at Meldrum's and the Karen Kerkhoven's Schools of Dance located in Sydney's Northern beaches. Commencing intensive classes relatively late, and at age 14 years she studied the RAD & Cecchetti Classical Ballet Syllabi gaining technique & performance experience in community, pageant & festival events - including the Sydney Festival.
Antonia later successfully auditioned for the professional company of the Margaret Walker Dance Centre, Sydney. With the director Miss Glynette Jeffrey, former soloist with the Essen Opera Ballet, dancers with the company trained in Ballet & National Dance regularly working under guest choreographers specializing in character dances including Russian, Indian, Polish, Ukranian, Romanian Spanish & Mexican. Through these experiences Antonia developed a love & appreciation for Classical Ballet and of Classical music , International cultures & history. Antonia worked in the company for three years touring at theatres, schools and community events. An injury precipitated Antonia's transitioning to a dance teaching career. She qualified in the teaching of the Cechetti Classical Ballet Syllabus through the Australian Academy of Ballet under the Principals Miss Valerene Tweedie & Miss Valerie Jenkins. Antonia moved to Bellingen in 1985 and established the Rivers studio in 1986 , formerly known as 'Rivers Ballet Studio'.
Classical Ballet / Contemporary /Russian Character - Massage Therapist
Lainey began her dancing life aged 4 in England. On moving to Australia she received a scholarship at the Victorian College of the Arts Secondary School. She attained her advanced certificate in the Royal Academy of Dance syllabus and on completion of her studies danced with the Russian Theatrical Society as a character dancer. Lainey trained with the International Dance Therapy Institute of Australia and has worked for 15 years as a community dance therapist working with various special needs populations. She has taught ballet, contemporary and character dance in Sydney at Valerie Smith Stage School , developing a syllabus to introduce ballet to beginner teenagers and adults.
She is currently undertaking a new teacher training for character dance with Alida Segal from the Moiseyev Dance Theatre of Moscow.
Lainey is also a remedial massage therapist and brings to her teaching a strong understanding of safe and correct technique working within each students physical ability, development and potential. She has four children, assorted animals and lives in Bellingen.
She has a passion for movement and the joy of dance and performance. Her classes are carefully planned to bring out the best in each student.
Contemporary/ Hip Hop /Commercial - Performance troupes/Workshops/private solo tutor
Growing up in the Bellinger Valley, Tehani first found her passion to dance at the annual Stamping Ground Dance festival. She soon took up classes at Rivers Ballet Studio, learning new skills and training hard she auditioned for 'Groove lock' Dance troupe and grew with confidence performing along the coast. She began teaching at Rivers & Bellingen High school, whilst also studying 2 unit HSC Dance at Coffs Harbour Education Campus. She then pursued her dance studies moving to Sydney and completing her Cert IV in Performing Arts at Urban Dance Centre. This opened her world to the dance industry whereby she performed in video clips, back up dancing for singers, club shows, flash mobs, modelling, hair and fashion shows and was a part of the Roosters cheer squad performing in front of a stadium of 12,000 people. She completed a season with 'Twisted Element Dance Company' having the starring role in the company piece.
Tehani did a fulltime professional contemporary dance course with 'Evolve Dance' at The Village Performing Arts in Sydney in 2012. Under the guidance of Linda Gamblin, Kip Gamblin, Jolie Brooks, Nerrel Benjamin, Dean Walsh and many more integral contemporary dance artists, it was here she found her true direction and rewarding passion for dance. Truly inspired and full of determination, she performed at 'Bangarra Dance Theatre' in two works by Choreographers Dean Walsh & Paul Selwyn Norton.
In 2013 , Tehani spent time in Europe travelling and later returned to Bellingen to join the teaching faculty at Rivers for 2014 and has been with us ever since!